RAPIDOO Pass Thru Key 
17 May 2023
2023-07-03 11:55
RAPIDOO Pass Thru Key 
RAPIDOO Pass-Thru Key
The Key To Official FCA Pass-Thru Diagnoses Included
With to the new Pass-Thru Key feature in the Priority app, a specialised technician will assist you in all diagnostic activities in Pass-Thru mode and will help you configure equipment/tools by most brands.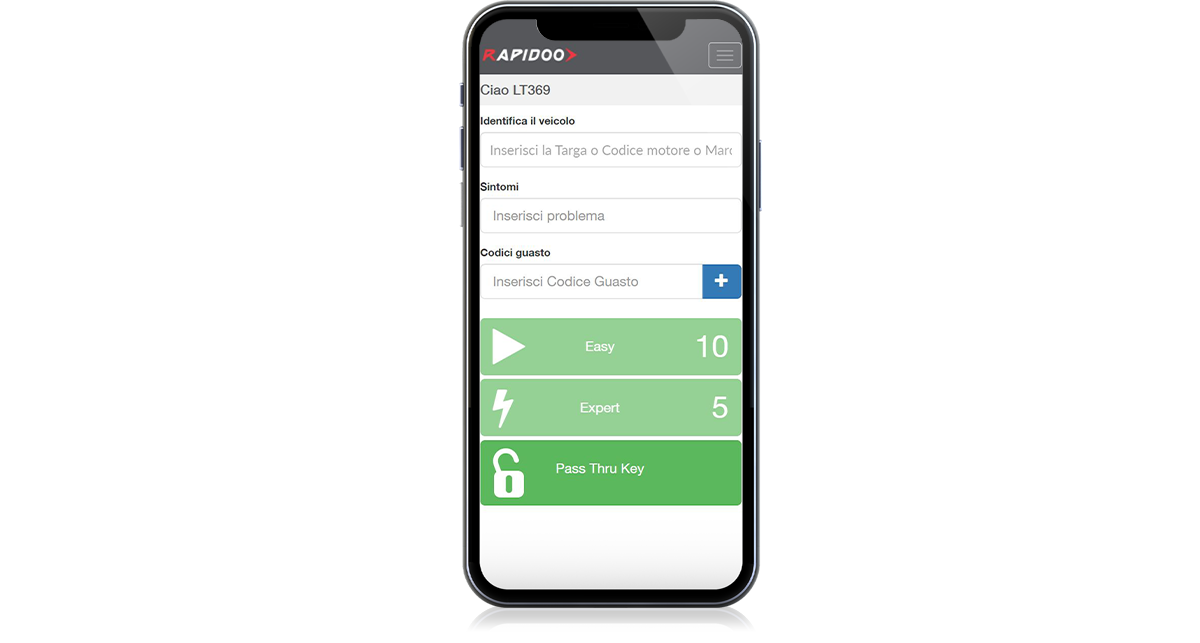 Get support for Fca cars: FLAPH and CJD and other brands
Accreditations and registrations
Guide to the new registration process of the Fca portal and to accreditation procedures with the various official portals.
Diagnosis and configurations
Position yourself with the same professionalism as the parent company thanks to the Pass-Thru.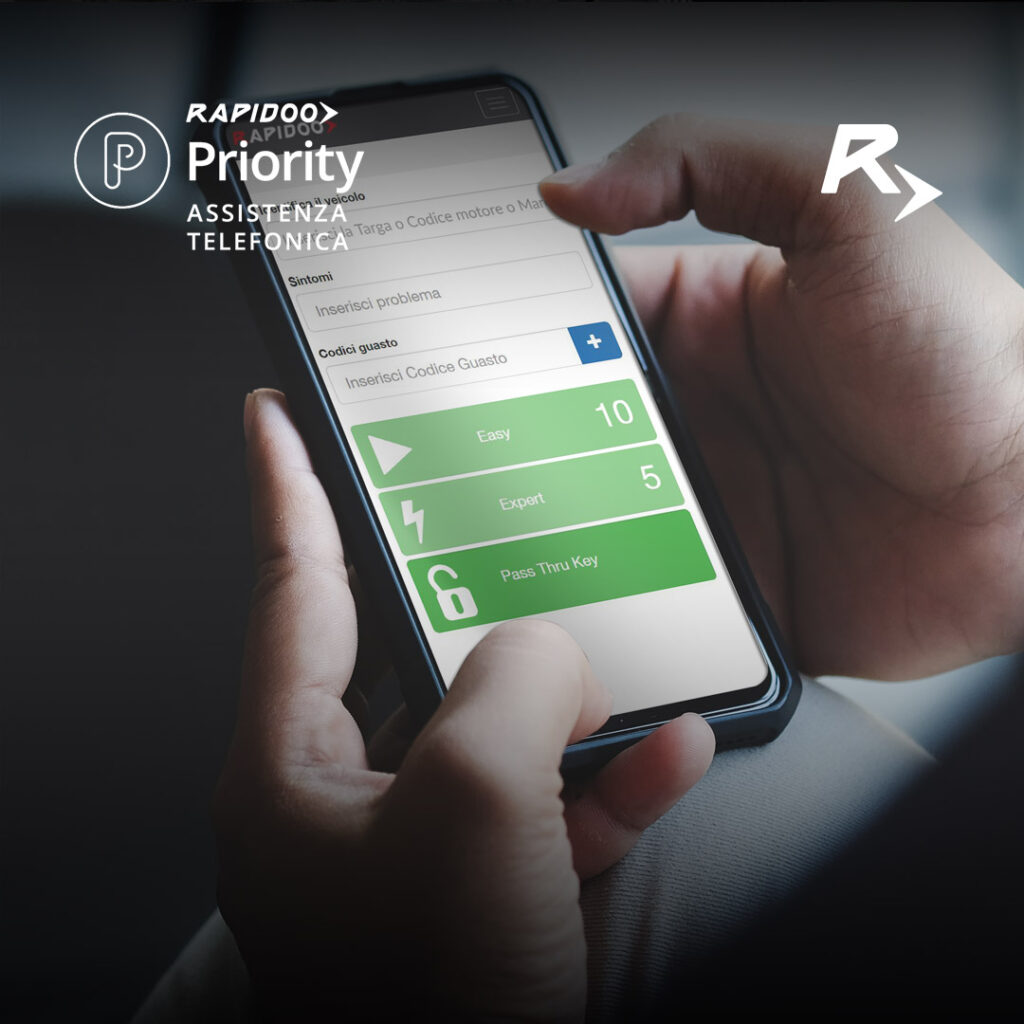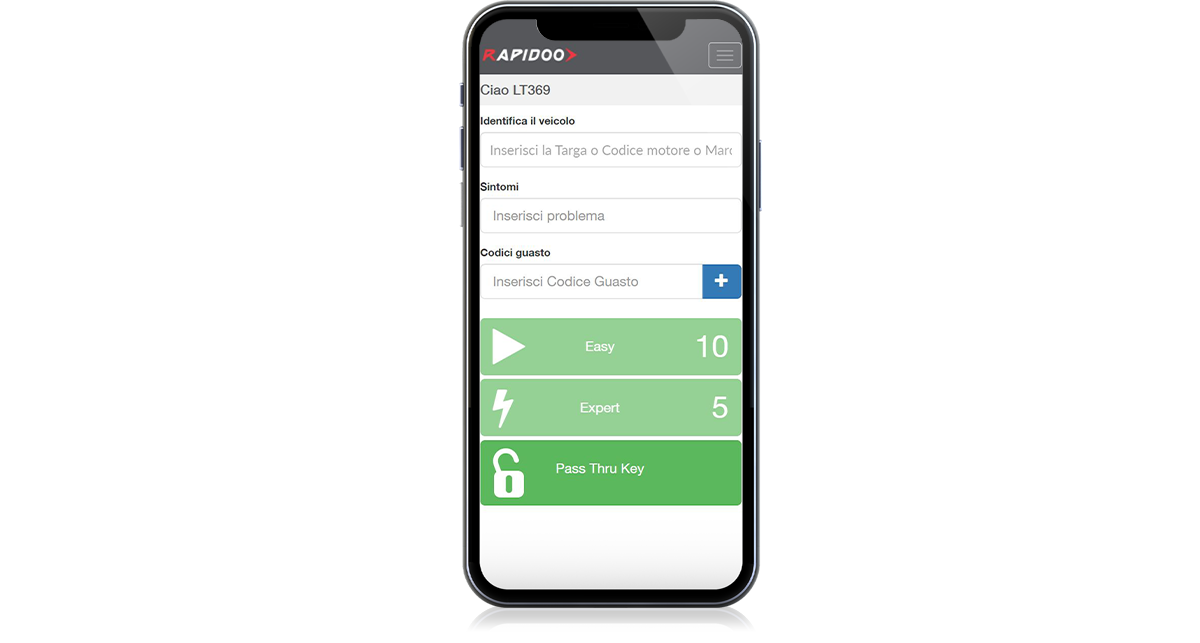 The key to pass-thru diagnoses for Fca and other brands
With Rapidoo Pass-Thru Key you receive assistance in managing accreditations, registering the electronic booklet and diagnostic activities and configuring equipment and tools also on the Fca range: FLAPH (Fiat, Lancia, Alfa Romeo, professional vehicles, Abarth) and CJD (Chrysler, Jeep, Dodge).
CHOOSE RAPIDOO PASS-THRU KEY
Features
Diagnostic activities Pass-Thru
Diagnosis and reprogramming with official software thanks to the Pass-Thru protocol
Official FCA diagnostics and other brands Initialise body computer
Body computer reprogramming
Registration of the electronic vehicle registration certificate
Control unit reprogramming
Configuration of equipment
Support with VCI connection/VCI recognition (from PC and OE software)
Token purchase support: voltage stabiliser configuration
Purchasing information: support with initialisation, reprogramming and/or OE diagnosis operations
FCA and all brands present
FCA
FLAPH: Fiat, Lancia, Alfa Romeo, professional vehicles, Abarth 
CJD: Chrysler, Jeep, Dodge
And more...
Audi, BMW – Mini, Bentley, Citroën – Peugeot, Dacia Ford, Hyundai, Honda Jaguar, Kia, Land Rover, Lamborghini, Lexus, Maserati, Mazda, Mercedes – Benz, Nissan, Opel, Porsche, Renault, Seat, Škoda, Smart, Subaru, Suzuki, Toyota, Volkswagen, Volvo.
Pass Thru Key
Pass-Thru support included
In addition to the Priority service, you will receive the Pass-Thru Key Pro:
Accreditation for manufacturers

Electronic vehicle registration certificate support

12 calls for technical assistance for configuration support / year
RAPIDOO Pass-Thru Key
Request Information
Fill in the form
One of our sales consultants will contact you within 48 hours.
"*" indicates required fields